This sudden onset of true January weather is making me long for a vacation somewhere sunny and warm. Over the summer we visited Burlington, Vermont and stayed at a house on Lake Champlain. While I realize Vermont is neither sunny nor warm now, it certainly was in August.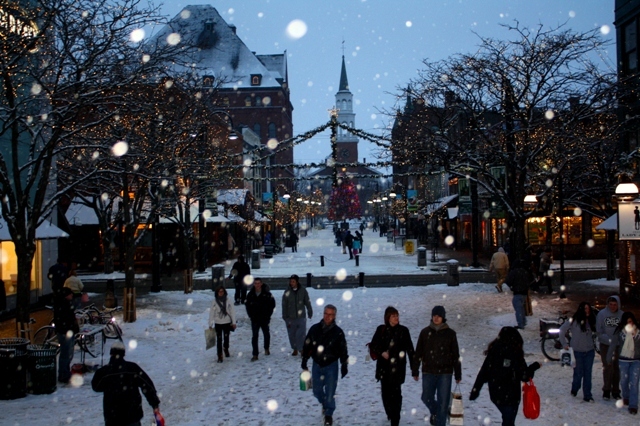 If you visit some time in the near future it will probably look more like the above photo. Here's a short list of things we did while we were in the area. Keep in mind, we are always on the lookout for freebies so many of the activities are quite touristy...
- grab a bite to eat at
Three Tomatoes Trattoria. I loved the chicken and cheddar hot-pressed panini and the spinach salad.
- tour the
Lake Champlain Chocolates
factory... so many yummy samples! Some things I bought to enjoy later - a sea salt caramel, a wild honey & fig truffle, and a chocolate peanut butter cup. Find Lake Champlain Chocolates at your local
Whole Foods
.
- shop for groceries at
City Market. We shopped here almost daily and found loads of local fruit, vegetables, yogurt, cheese, and milk.
- drive to
Shelburne Farms where you can milk a cow, collect eggs, spin wool, hold a chicken, and observe cheesemaking. We ate lunch there, too - most of the little food truck's offerings are from the farm!
- gorge yourself on countless cubes of cheddar cheese before the tour at
Cabot Cheese
Now for some gratuitous photos of Ezra...
Look, here we are proving that a mother doesn't need to have a daughter to dress her child in outfits that match hers. And this wasn't even on purpose! I wish he still fit into those pants.